Cottage Na hráni can be rented as a whole with a capacity of 20 people. The cottage has a large sunny terrace, playground, fireplace and meadow, where sheep graze throughout the summer.
Ground floor and first floor
The ground floor and the first floor of the cottage underwent a complete renovation, which ended in 2020. The ground floor has a living room with kitchenette, dining room, TV and large sofa. There is a games room with a children's corner and a sauna next door. On the ground floor there are two newly renovated large bathrooms with a total of 3 showers and toilets.
On the first floor, choose from 4 cozy rooms with a capacity of 11 people. There are 2 toilets directly on the floor. After all, who would want to walk up the stairs at night. Maximum for children and juniors who will not mind that you accommodate them on the second floor. There are 3 rooms with a capacity of another 8 people.
Of course, bed linen and towels in the rooms, which we wash in an ecological product with a disinfectant effect.
The whole house has quality wifi signal coverage and the television offers a wide range of programs. There is also good GSM signal coverage of all operators.
Kitchen and bathrooms
The fully equipped kitchen includes a large fridge-freezer, oven with hob and toaster. For added convenience, an electric kettle, microwave and Nespresso coffee machine are also available. (take your own capsules)
Above the stated capacity, all rooms can accommodate cots. There are 2 highchairs in the dining room and baby cutlery, bowls and plates in the kitchen. In the toilets we have children's boards and potties for small visitors.
Heating
Heating of the entire cottage is provided centrally, environmentally friendly thanks to deep wells and a heat pump. We maintain the same temperature inside the cottage throughout the day and night.
The cottage is non-smoking.
Parking and transport
From spring to autumn you can park comfortably right next to the cottage, which can accommodate 4 cars.
In winter it is necessary to use the central parking lot located about 1.6 km. In winter, it is possible to order a taxi in the form of an ATV or scooter to transport luggage and people. (TRANSPORT MOTOQUAD VELKÁ ÚPA, scooter, quad bike, tel .: +420 603 475 391). The town is located in the Krkonoše National Park, and in the summer it is possible to go to some of the above-mentioned guest houses and mountain cottages, including ours, only with a purchased entrance ticket. The entrance machine is also located in Velká Úpa and at the moment when you turn to our Cottage from the main road you will come across it. Details on payments for entry can be found on the website of Pec pod Sněžkou.
When you don't want to cook
In Velká Úpa and in Pec pod Sněžkou you will find several good restaurants where you can go for dinner or lunch.
Safety after COVID-19
We disinfect the whole cottage after each group of visitors. Common areas and busy areas are then cleaned daily. Disinfection is available in the cottage.
Accommodation regulations Free dates
Ground floor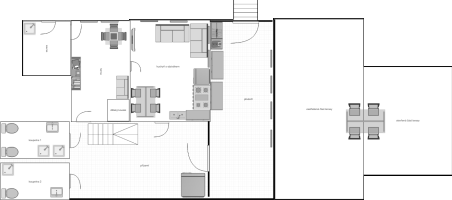 First floor
Second floor
Room č.1
Room č.2
Room č.3
Room č.4
Room č.5
Room č.6
Room č.7